Perennial Plug Plants
We offer over 350 different varieties of perennials throughout the year in our 51 cell jumbo plug range. They are produced from either seed or vegetative material and all have proved to be a real winners.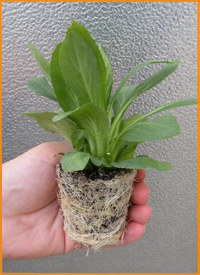 But why choose our Perennial Plugs?
Our jumbo 50 range of perennial plugs offers you some distinct advantages over smaller continental plugs:
1) Our robust plug plant grows away quickly giving you rapid establishment and shorter production times.
2) Fast turnaround enables you to respond to your customer demands quickly and enables you to make the best use of your space to maximise profits.
3) The choice to pot over wintered plugs (already hardened by a Lincolnshire winter!) in spring for same year flowering whilst eliminating the losses of over wintering yourself.
4) A colour care card label is available for every variety.
We offer 3 main sales periods during the year which enables you to offer your customers perennials all year round:
Weeks 7 - 9: Potting for sales through spring and early summer.
Weeks 23-24: Potting for sales through late summer and autumn, with many of the varieties selected for same year flowering.
Weeks 37-38: Potting for sales late autumn and over-wintering for early spring sales.

Between these sales periods we often have stock available, details of which can be found on our Current Availability.

To place your order for plugs, just click for an Order Form - You won't be disappointed!